Choose a suitable health insurance policy to cover your child's needs and manage rising medical costs
Getting adequate and comprehensive health insurance for your child is your best bet to hedge against increasing medical costs, according to Ms Wendy Soong, an executive financial consultant with NTUC Income. She suggests considering the following points before shopping for a policy.
Tips to choose a health insurance policy for your child
Assess your current financial and medical situation
Medisave funds can be used to pay the annual premiums of basic health insurance or the government-approved Integrated Shield Plans only. All other insurance plans must be paid in cash.
How much you pay depends on your child's age, the age of both parents, the sum assured, and the payment terms and period. How much insurance to buy depends on your desired lifestyle, expectations, affordability and objectives.
Review your family's medical history. If there is a strong history of cancer, it is better to buy medical insurance for a child when he is as young as possible to lock in his insurability and serve as a back-up.
Choose your insurance plan and hospital ward class wisely
If you choose a plan that only allows your child to stay in a Class B ward but you upgrade him to a Class A ward, your bill will be subjected to proration and you'll need to pay a higher deductible.
However, if you take a higher plan but downgrade hospital wards, some Integrated Shield Plans even offer you a cash benefit in return.
Lock in your insurability
If your child has no pre-existing health conditions, he will not face any insurability issues. But if he unexpectedly develops a condition during his growing years, that medical history will follow him for the rest of his life, making it difficult for him to get life insurance with critical illness coverage in future. If he needs surgery, hospitalisation bills can eat into your savings. So, it is essential to start with comprehensive insurance coverage while children are young and not leave it to chance.
It is best to buy medical insurance for children about a month after they are born, once the birth certificate is obtained. This locks in their insurability while they are healthy.
Be honest in your application
Always disclose all information on your child's health and medical care when you are applying for a policy. Any non-disclosure or misrepresentation that's discovered later may result in policy rejection or termination.
Consider other unavoidable factors
Observe your child's lifestyle and learning environment – is he prone to common diseases? Choose comprehensive health insurance plans that offer all aspects of coverage, from child-related illnesses and infectious diseases to all forms of hospitalisation.
Types of medical insurance for children
Hospital and surgical plans
Medisave-approved Integrated Shield Plans offered by private insurers which cover hospitalisation and surgical expenses.
Premiums can be paid by Medisave funds.
Help to cover hospitalisation bills as a result of accident or illness, including day surgery bills, on an "as charged" basis, as well as expenses for treatment or surgery in hospital.
Cover pre- and post-hospitalisation expenses for up to 90 days.
Like MediShield, these private shield plans have co-insurance and deductible features to keep premiums affordable.
Can add on a range of riders for more comprehensive coverage.
Savings or endowment plans
For the child's education or other expenses; can either be in a parent's or the child's name.
Riders, such as those covering critical illnesses, can be added.
Payment terms can be tailored to one's needs.
Personal accident and infectious disease plans
Provide comprehensive global protection against personal accident and 17 infectious diseases (including hand, foot and mouth disease and dengue fever).
Weekly cash benefits for infectious disease claims.
Medical expenses for injury or infectious diseases cover treatment by Chinese medicine practitioners and chiropractors.
Critical illness plans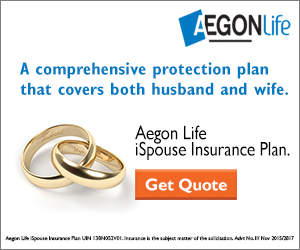 Available on a whole lifetime basis or on term insurance but with a limited payment period.
Help to reduce the financial burden by paying a lump sum if the child is diagnosed with a critical illness like heart attack, stroke or cancer.
Offer alternative sources of income or cash for treatment options not covered under a hospital and surgical plan.
Payout does not depend on hospital admission or the actual medical expenses incurred.
Medical expense and critical illness insurance policies are both essential and complement each other.